Book Review: Dumplin' by Julie Murphy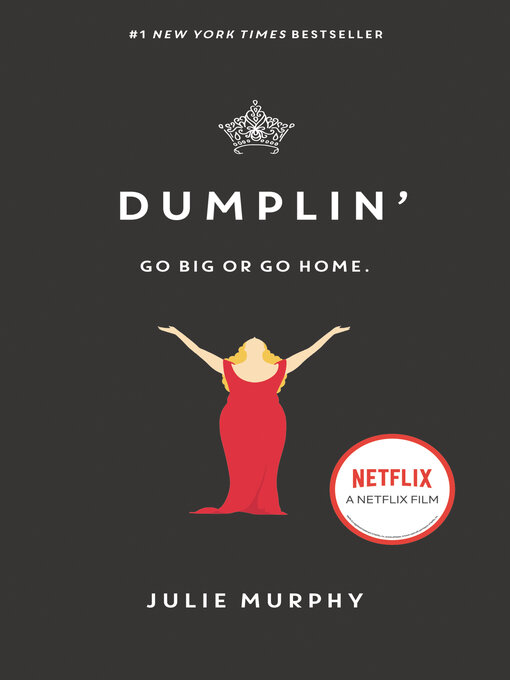 Dumplin'
By Julie Murphy
(Balzer + Bray; New York, NY; 2015. 371 pages)
Ages 13 and up
"Clover City isn't known for much. Every few years our football team is decent enough for play-offs and every once in a while someone even makes it out of here and does the kind of thing worth recognizing. But the one thing that puts our little town on the map is that we're home of the oldest beauty pageant in Texas. The Miss Teen Blue Bonnet Pageant started back in the 1930s and has only gotten bigger and more ridiculous with every passing year. I should know since my mom has led the planning committee for the last fifteen years." So says Willowdean Dickson, the teenage star of this delightful novel about being big and beautiful, but still having to navigate friendships, dating, and a beauty queen mother who can't seem to accept that fat can be fabulous, too.
Known as Will to her friends and affectionately nicknamed Dumplin' by her mother, Willowdean introduces herself to the gorgeous new boy at her fast-food workplace as, "Cashier, Dolly Parton enthusiast, and resident fat girl." She likes that he doesn't seem to react to that, other than to smile and tell her his name, Bo. She goes on to explain to readers, "The word fat makes people uncomfortable…But that's me. I'm fat. It's not a cuss word. It's not an insult. At least it's not when I say it. So I always figure why not get it out of the way?"
And that's Will, straightforward and self-assured. Until Bo shows he's interested, and the dominant thin culture that says she's not good enough for his kind of handsome starts crowding out her confidence. Then a bully at school overhears her mom's affectionate nickname and turns it into something that makes her "feel so small for being so large." In an act of rebellion and self-assertion, and "because there's no reason I shouldn't," Will decides to compete in the Miss Teen Blue Bonnet Pageant. Her action is a spark that ignites a minor revolution and inspires a few other unconventionally beautiful girls to become participants as well, but this is no fairy tale and the revolution is not without setbacks.
Dumplin' is deeper than a superficial beauty contest, however, and offers an array of situations, confusions, and triumphs to entertain and enlighten readers. With a best friend break-up, the recent death of her favorite aunt, relationship challenges, and moral dilemmas to deal with, Willowdean is complex and conflicted and contains multitudes. She and the other characters in this sweet novel will win your heart. Read it and enjoy!